Naples Hot Water Heater installation & Repair
Types of Water Heaters we install and replace
Are you looking to repair or replace your water heater? Our plumbing professionals in Naples can easily install a water heater and get your hot water flowing again.
Standard Water Heater
The standard water heater sizes we install are 40, 50 & 55 gallon. Depending on the location of the hot water heater in your house or condominium, we may suggest a low height model that can fit into small spaces. For example, a 40-gallon water tank should be enough for a home with 4 people. For 6 or more people we recommend the largest water heater we offer with a water heater tank booster attachment. The hot water heater booster will save you money overall by reducing energy costs.
Hybrid Water Heater
Hybrid water heaters are a newer type of hot water heater that provides many different upscaled features. The energy cost saving alone can be up to 30% vs the traditional standard. Increased hot water capacity for the home which aids in eliminating running out of hot water. An interesting benefit of hybrid water heaters is they act like a natural dehumidifier and AC, by dispensing cool dry air from the unit into the room or garage where the water heater is kept.
Tankless Water Heater
Tankless water heaters are on demand heaters that are small in size, which can be beneficial when installed in tight spaces. Water is only being heater when the unit is on. They do not have a holding tank for hot water like regular models do and only heat water when in use.
Essency Water Heater
The Essency Water Heater revolutionizes traditional water heating systems by seamlessly blending the benefits of both tank and tankless models. Equipped with a long-lasting polymer tank, this appliance offers an impressive 20-year warranty. Its exceptional design allows for an 80-gallon first-hour rating while occupying the footprint of a standard 55-gallon tank. Notably, the Essency Water Heater performs similarly to a tankless system without requiring any power source upgrades, making it an ideal solution for condominiums with limited electrical capabilities.
---
Why Choose Mike's Plumbing?
Mike's Plumbing has been providing professional plumber services to Naples Florida and the nearby communities since 1996. Our customers stand by our family owned business and we do the same! Water Heaters are a major appliance used everyday in your home. Mike's Plumbing can easily install many different types of water heaters. For example: electric water heaters, hybrid water heaters, tankless water heaters. We also offer booster tanks for houses that will allow your family to run multiple showers at once and not loose any water temperature. All our hot water heaters come with a warranty that will keep you happy for years to come.

Call Mike's Plumbing for water heater repair or Replacement
---
A few signs that your water heater needs to be replaced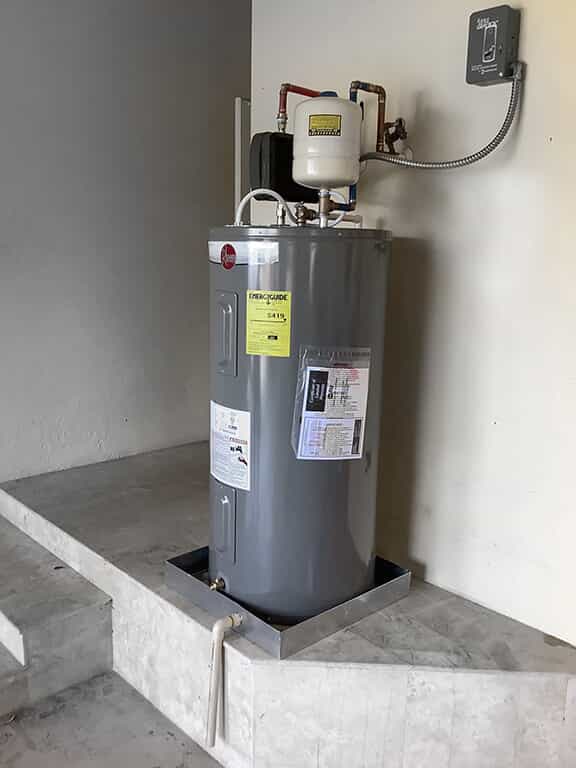 Water leaking from water heater
Hot water is not as hot as it used to be
Inconsistent water temperature
Electric bill increase due to faulty heating elements
Weird noises coming from water heater
Low water pressure
"Comforting to know there are still businesses who truly understand and practice the art of exceptional customer service!"

- Melissa G.

"Awesome service from Matt and Richard. Affordable, plus we got the 10% first-time customer discount."

- Mary G.

"Rich did an amazing job and I could not be happier with his professionalism and attention to detail. Great front office team to work with and you should look to them for your next plumbing needs."

- Joseph B.