Plumbers in bonita springs
We are proud to provide various plumbing services to residents of Bonita Springs and the surrounding area. Whether you are looking for drain cleaning, water heater service, toilet repair, unclogging sinks or leak detection, our master plumbers can help to fix the problem. Also, to provide you piece of mind we are fully licensed and insured.
Call (239) 208-0274 or to schedule an appointment with our plumbers in Bonita Springs!
Licensed & Insured Plumbing Company
We have plumbing technicians strategically placed throughout Southwest Florida and readily available to provide plumbing services in Bonita Springs. Our mission is simply do the highest quality work and to make our customers happy. You deserve an experienced, courteous knowledgeable Plumber that delivers on promises.
Mike's Plumbing of Southwest Florida will quickly diagnose your problem and prepare estimated pricing for the work needed to be completed. You approve everything with full knowledge of what to expect and then we get it done. Our Plumbing experts in Bonita Springs are so confident in our service that we have a full warranty and a 100% satisfaction guarantee. If you are looking for master plumbers and HVAC technicians please consider calling us.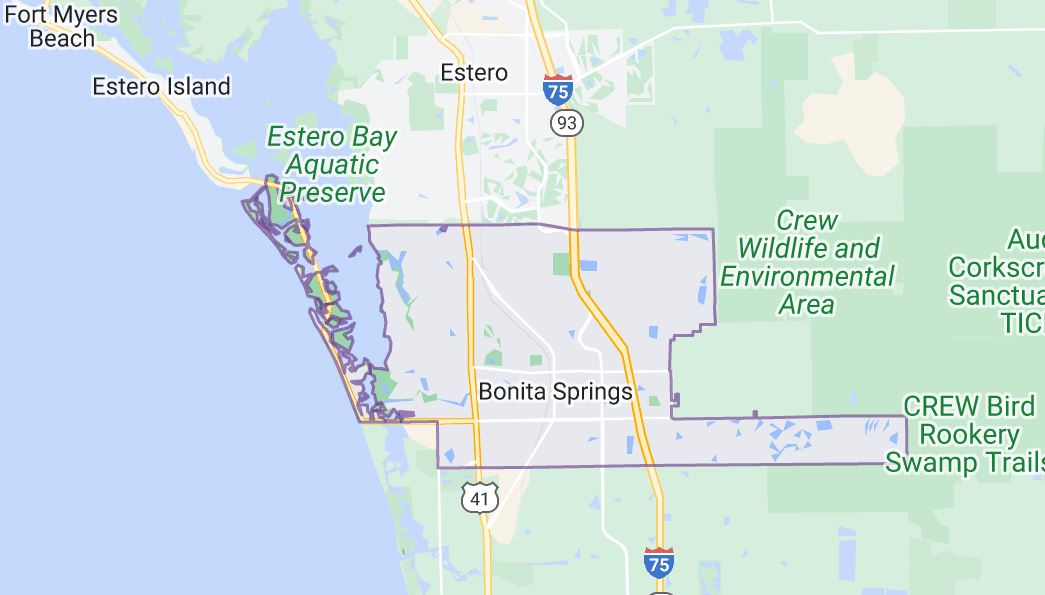 EMergency pLUMBING SERVICES IN bONITA sPRINGS pLUMBERS IN bONITA sPRINGS
"Comforting to know there are still businesses who truly understand and practice the art of exceptional customer service!"

- Melissa G.

"Awesome service from Matt and Richard. Affordable, plus we got the 10% first-time customer discount."

- Mary G.

"Rich did an amazing job and I could not be happier with his professionalism and attention to detail. Great front office team to work with and you should look to them for your next plumbing needs."

- Joseph B.
What are Common Signs YOur Drains Are Clogged?
One of the most common signs you have a clogged drain is your water drains slowly. Other common signs are an increase in your water bills or you begin to notice sewage smells. If you notice any of these or suspect your drains are clogged, be sure to contact our plumbing team for drain cleaning services in Bonita Springs.
Bonita Springs History
Bonita Springs had its beginnings when, in the 1870's, government surveyors in a remote part of Southwest Florida pitched camp near a medicinal spring which the local Indians believed could heal the sick. After the crew left, the site became know as Survey and the stream running from it, Surveyor's Creek.
During the next decade only a few homesteaders moved in, but in the late 1880's the population of the area more than doubled when Braxton B. Comer bought 6000 acres of land around "Survey" and helped move families from Alabama with mules and equipment to work a large plantation growing pineapples, bananas, and coconuts.
By the early 1920's, Barron Collier, in his thrust to expand his empire, had extended his Fort Myers-Southern Railroad to include Bonita Springs which, with his new Tamiami Trail, brought another land boom to the area. And one more old place name disappeared when Fiddler-ville, so called for its millions of tiny fiddler crabs became Bonita Beach.
New attractions helped bring more visitors to Bonita Springs. At Everglades Wonder Gardens, Bill and Lester Piper displayed panthers, bears, and other native Florida animals and supplied rare animals to the Chicago Zoo. A Canadian, Harold Crant, saw the millions of shells lying, free for the taking, knee-deep in brilliantly colored windrows along the beaches and opened the Shell Factory. The factory burned down in the early 40's but was rebuilt later in North Fort Myers.
As the years passed the U.S.41 Bypass and I-75 corridors opened up more access that brought shopping malls, modern office facilities, and outstanding golf courses into the area. Today, Bonita Springs is an attractive area with beautiful beaches, fine restaurants, and excellent recreational facilities and has become another flourishing Southwest Florida township. It is hard to realize that, a little more than three generations ago, the roots of this thriving community were a scattering of homesteaders' shacks by a creek in the back of nowhere - a place called Survey. It is also commemorated by the Survey Cafe in Bonita Springs.