Drain Cleaning services in Naples, FL
Plumbing Professionals Offering Drain Cleaning Services Throughout Naples
At Mike's Plumbing of Southwest Florida, we understand how frustrating it can be when your drains become clogged or slow. That's why we offer comprehensive drain cleaning services to get your drains back up and running quickly and efficiently. Our experienced plumbers use the latest equipment and techniques to ensure your drain is cleared quickly and without damage to your home.
---
Schedule your drain cleaning service today! Reach out to us at (239) 208-0274 or contact us online today.
---
Our Drain Cleaning Services
Our team of experienced plumbers is here to provide you with the best service possible. We are committed to providing you with the highest quality of service and ensuring that your plumbing system is running smoothly.
Our Plumbing Care Professionals can unclog your:
Main sewer line
Kitchen sink
Bathtub and shower drain
Washing machine
Dishwasher
Toilet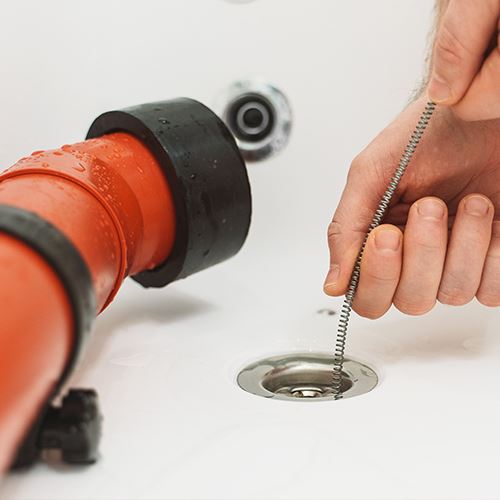 Our Drain Cleaning Process
We will use a snake, or an auger, on the drain line to clear it.
Should the problem persist, we will conduct a thorough inspection of the drain line to make sure we have cleaned all obstructions from the line.
We will ensure that there are no root problems or build-ups left!
Signs You Need Drain Cleaning
Clogged drains can be a major inconvenience, causing water backups, slow drainage, and unpleasant odors in your home. To prevent these issues from escalating, it's important to recognize the signs that indicate the need for professional drain cleaning services. At Mike's Plumbing of Southwest Florida, we specialize in efficient and reliable drain cleaning solutions.
Here are some common signs that your drains may be in need of a thorough cleaning:
Slow Draining: If you notice that water is draining slowly from your sink, shower, or bathtub, it's a clear indication of a clog in the drain pipe. Over time, debris, hair, soap scum, and other materials can build up and impede the flow of water.
Water Backups: Backups occur when water starts to pool around the drain instead of draining properly. This can happen in sinks, toilets, or showers, and it's often a sign that there is a blockage in the drainpipe.
Foul Odors: Unpleasant odors emanating from your drains can be a sign of trapped food particles, grease, or other organic matter that has accumulated over time. These odors can be persistent and indicate the need for a thorough drain cleaning.
Gurgling Sounds: If you hear gurgling or bubbling noises coming from your drains when you flush the toilet or run the water, it may be a sign of a blockage. The trapped air in the pipe causes these sounds as it tries to escape around the clog.
Multiple Clogged Fixtures: If you experience clogs in multiple fixtures at the same time, such as the sink, toilet, and bathtub, it's likely that there is a clog deeper in the main drain line. Professional drain cleaning can help identify and remove the blockage effectively.
Recurring Clogs: If you find yourself constantly dealing with clogs even after attempting DIY methods, it's time to seek professional drain cleaning. Stubborn clogs may require professional tools and expertise to clear them completely.
Flooding in the Basement: A basement flood can be caused by a clogged floor drain or a main sewer line blockage. This is a serious issue that requires immediate attention from a professional drain cleaning service.
Fruit Flies or Drain Flies: If you notice an influx of small flies around your drains, it could be a sign of organic matter buildup in the pipes. These flies are attracted to the decomposing matter and indicate the need for drain cleaning.
By recognizing these signs, you can take proactive measures to address drain issues before they become more severe. At Mike's Plumbing of Southwest Florida, our team of experienced plumbers is ready to provide comprehensive drain cleaning services to keep your plumbing system functioning optimally. Don't let clogged drains disrupt your daily life—contact us today to schedule professional drain cleaning and restore the proper flow of water in your home.
---
Call (239) 208-0274 or contact us online today to schedule your drain cleaning in Naples!
---