Local Plumbing Service in Naples
About Mike's Plumbing of Naples
Mike's Plumbing of Southwest Florida provides plumbing services in Naples, Downtown Naples, Port Royal, Park Shore, East Naples, Pelican Bay, Vineyards, North Naples, Vanderbilt Beach, Naples Park, Golden Gate, Naples Manor, Lely & Verona Walk. We are a family owned business that has been providing plumber services in the local Naples community and SWFL since 1996.
Clogged Drain Plumbers
Having troubles with clogged pipes? When your kitchen drain is clogged or toilet starts to back up give Mike's Plumbing in Naples a call to fix your plumbing! Our skilled technicians will make fix your drain back up issue to get your home flowing smoothly again.
Water Heater Repair
Have you noticed your water heater dripping from the bottom? Or maybe you turned on the shower in the morning to find out you have cold water. In these cases your water heater should be repaired and replaced soon if not immediately. Regular maintenance on water heaters like flushing help clean the heating coils of any sediment that has built up.
Garbage Disposal Clog
Do you know how to properly use a garbage disposal? Garbage disposals in the sink are definitely useful for certain food items. If your disposal starts to back up into the sink, it could be clogged or damaged. Depending on the age and condition of your garbage disposal unit we may recommend replacing it. Either way our local plumbers in Naples will fix the problem!
Shower & Bathroom leak
Shower head leaking can be a result of a damaged o-ring seal from wear and tear. Over time these seals wear down and water starts to leak out. Sometimes you may notice your water pressure is low, leaking sounds in wall, or stains on the walls. Water lines inside the wall may be damaged causing water to leak out inside your walls.
Kitchen Faucet & Under sink leAK
Have you ever looked under the sink to find a pool of water? If you happen to notice your faucet leaking from the base or leaking under the sink you need a professional plumber! Parts on your faucet may be worn down and causing the faucet leak. Give our trusted local Naples Plumbers at Mike's Plumbing a call.
---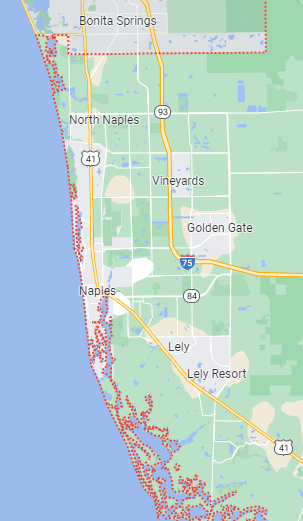 Naples FL PLUMBERS
Mike's Plumbing of Southwest Florida has a plumbing solution for all your plumber needs. We are a local family owned company servicing Naples & Downtown Naples Florida since 1996. We are considered one of the best plumbers in the town!
Clogged Drain Plumbers
Water Heater Replacement
Water Filter System
Toilet Install
Sink Leak
General Plumbing
Mike's Plumbing
1724 Santa Barbara Blvd Unit A
Naples, FL 34116
"Comforting to know there are still businesses who truly understand and practice the art of exceptional customer service!"

- Melissa G.

"Awesome service from Matt and Richard. Affordable, plus we got the 10% first-time customer discount."

- Mary G.

"Rich did an amazing job and I could not be happier with his professionalism and attention to detail. Great front office team to work with and you should look to them for your next plumbing needs."

- Joseph B.
Common Water Heater Problems
Water heaters are essential, providing hot water for various purposes. However, they can experience problems over time. Some common water heater problems include:
No hot water
Inadequate hot water supply
Strange noises
Leaks
Rusty or discolored water
Smelly water
High water pressure
Short cycling
Pilot light issues
Thermostat problems