Fast & Effective Water Heater Repair in naples & SWFl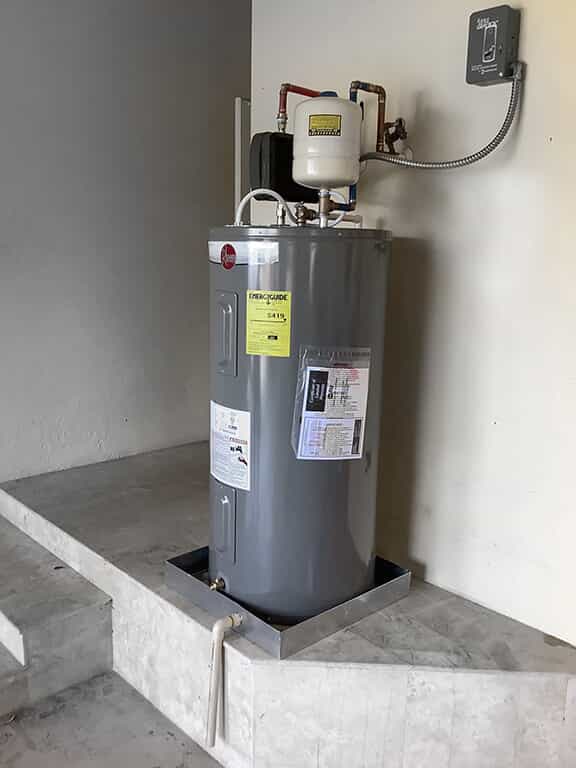 If you've recently noticed some problems with your hot water heater, contact Mike's Plumbing of Southwest Florida for water heater installation. Our experienced plumbers have installed numerous water heater brands and models, including hybrid water heaters, tankless water heaters and dealt with all types of complex plumbing issues. Providing water heater repair in Naples since 1996, there's no problem too difficult for our team to handle. We are your local Naples water heater installer!
Call (239) 208-0274 or contact us online to schedule a repair for your water heater. We get the job done right!
Hot Water Heater Replacement
One of the most frequent problems that people experience with their hot water heater is water temperature issues. While some of these types of problems can be resolved with a simple fix, many will require the assistance of an experienced plumber. We are located in Naples and will get your water heater up and running fast!
Three common water temperature issues and their causes include:
Water is too hot – In many cases, water that is too hot is caused by a thermostat setting that is too high. However, if problems persist after adjusting your thermostat, there is likely a problem with an internal component that will require professional attention.
Water is not hot enough – When water fails to get hot enough, it may be due to an undersized water heater, which can only be resolved by replacing it with a larger unit. Other causes include faulty heating elements, broken thermostats, or crossed hot and cold connections.
Water is cold – Sometimes the water doesn't get hot because of a power problem. Check that there are no tripped breakers or blown fuses and that all power switches are turned on. The issue may also be caused by a faulty thermostat or heating elements.
Hot water tank Making Odd Noises
Perhaps you've been hearing some strange noises coming from your water heater. This is typically a sign that sediment has built up inside your system. Sometimes this problem can be fixed by flushing the unit. However, if the noises continue even after flushing your system, it may be a sign that your water heater needs to be replaced. Call Mike's Plumbing for water heater installation.
Leaking Water Heater Repair
Another common problem that occurs with water heaters is leaks. The first thing to remember is there is no water leak that is a minor issue – if left unresolved too long, it can turn into a costly ordeal.
Your water heater may be leaking for numerous reasons, including:
Bad gasket
Stuck valve
Overheating
Improper water pressure
Loose heating element bolts
Faulty pressure relief valve
Corroded water tank
Leaky nearby plumbing connection
Although some water heater leaks are a sign that your system is due for a replacement, most causes of leaks can be repaired. Regardless of what type of leak you're experiencing, our plumbers will provide an accurate diagnosis and effective solution.
Why Is My Hot Water Discolored?
One of the surest signals that your water heater requires repair is rust-colored water. This is often an indication of corrosion on the interior of the tank, which is caused by a faulty anode rod. Our Naples water heater repair specialists can help you determine if the anode rod can be replaced, or if you should invest in a new system.
Hot Water heater not keeping up?
If your hot water is running out unusually faster than it usually would, your home is likely in need of a water heater repair. For example, your tank can have a broken dip tube to prevent cold and warm water from mixing. Or it can also indicate that the lower heating element in your water heater has failed. Call your local plumber to inspect and get to the root of the problem.
Mike's Plumbing of Southwest Florida is one of the best plumbers in Naples for water heater installation in Collier and Lee County. Call (239) 208-0274 today to get a reliable plumber heading your way.